5.01pm GMT
17:01
Today so far
Here's where the day stands so far:
Jill Biden will kick off her campaign to convince more American parents to vaccinate their children against coronavirus. The first lady's kickoff event, which will take place this afternoon in McLean, Virginia, comes less than a week after the Centers for Disease Control and Prevention approved the administration of a lower dose of the Pfizer vaccine to children between the ages of five and 11.
Biden will travel to Baltimore on Wednesday to deliver a pitch on the benefits of the bipartisan infrastructure bill, after the House approved the proposal on Friday night. The president has not yet signed the bill, which includes $555bn in new federal funding for roads, bridges and railways, among many other projects.
Barack Obama criticized Donald Trump's climate policies while speaking at the Cop26 conference in Glasgow. The former president lamented his successor's decision to withdraw from the Paris climate agreement, saying, "I wasn't real happy about that." But Obama predicted that Biden's climate agenda will "set the United States on course to meet its new climate targets".
The blog will have more coming up, so stay tuned.
4.54pm GMT
16:54
At least one high-profile Democrat, Senator Elizabeth Warren of Massachusetts, has already indicated that she opposes the potential renomination of Federal Reserve chair Jay Powell.
"Your record gives me grave concerns," the progressive lawmaker told Powell at a Senate hearing last month.
"Over and over, you have acted to make our banking system less safe, and that makes you a dangerous man to head up the Fed, and it's why I will oppose your renomination."
4.35pm GMT
16:35
Fed governor Quarles announces resignation
Federal Reserve governor Randal Quarles has announced he will resign next month, giving Joe Biden another opening to fill at the US central bank.
"After more than four years as a member of the Board of Governors of the Federal Reserve System, and given the completion last month of my term as Vice
Chairman for Supervision of the Board, I intend to resign my position as a Governor of
the Federal Reserve during or around the last week of December of this year," Quarles said in a letter to Biden.
"It has been a great privilege to work with my colleagues on the Board, throughout the Federal Reserve System, and among the global central banking and regulatory community."
Quarles' announcement comes as Biden also has to make a decision on whether to nominate Federal Reserve chairman Jay Powell for another term.
Bloomberg News reports:
Also, Vice Chair Richard Clarida's term as a governor expires at the end of January, and there is an open seat on the board. Together, these appointments give Biden an opportunity to reshape the Fed Board.

Biden recently met with Chair Powell and Fed Governor Lael Brainard, according to people familiar with the matter. Brainard is the only sitting governor on the Board appointed by a Democrat who is seen as a contender for all three leadership positions.
4.14pm GMT
16:14
After the House passage of the bipartisan infrastructure bill, Democrats' attention has turned to the $1.75tn reconciliation package, which includes more than $500bn for climate initiatives.
A handful of House progressives voted against the infrastructure bill because of their demand that the reconciliation package advance at the same time.
Progressives worried that some of their centrist colleagues, like Senator Joe Manchin, would not feel motivated to pass the reconciliation package once the infrastructure bill was sent to Joe Biden's desk.
Asked about concerns that Democrats may lose momentum in the negotiations over the reconciliation bill, Biden said on Saturday, "I feel confident that we will have enough votes to pass the Build Back Better plan."
3.49pm GMT
15:49
Obama criticizes Trump in Cop26 remarks

Oliver Milman
Barack Obama addressed the Cop26 climate change conference today, opening with a cheery "Hello, Glasgow!"
The former US president, tieless and looking relaxed, said that he doesn't need to attend such conferences anymore, but "you will have a hard time keeping me away" when it comes to the future of the planet.
Obama said "meaningful progress" has been made since the Paris climate accords, which he helped to strike, but he acknowledged that more needs to be done.
"What is also true, collectively and individually we are still falling short," he said. "We have not done nearly enough to address this crisis, we will need to do more."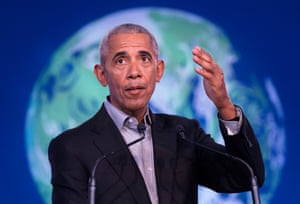 Obama admitted that "some progress stalled" when Donald Trump withdrew the US from the Paris deal. "I wasn't real happy about that," he added, but said the "US is back" under Joe Biden's leadership.
He also argued that, despite opposition within the Democratic party, some version of Biden's ambitious $555bn climate package will pass in Congress in the coming weeks. "It will set the United States on course to meet its new climate targets," he said.
Follow the Guardian's live blog for more updates from Cop26:
3.22pm GMT
15:22
Joe Biden has now arrived back at the White House, after he and the first lady spent some time at their home in Rehoboth Beach, Delaware, this weekend.
As the president approached the White House, reporters shouted questions at him about his economic agenda and the results of last week's elections.
When asked about whether he would soon speak to Glenn Youngkin, the Republican governor-elect of Virginia, it sounded like the president replied, "I tried to call him."
The White House deputy press secretary, Karine Jean-Pierre, said on Thursday that the president had not yet spoken with Youngkin.
"The will of the people is clear, and the president has always believed in working across party lines for the good of the American families," Jean-Pierre said at a press briefing. "And he looks forward to doing that with Governor-elect Youngkin."
3.03pm GMT
15:03
The Guardian's Martin Pengelly and David Smith report:
In his Saturday remarks, Joe Biden praised the infrastructure bill as a "once-in-a-generation investment that's going to create millions of jobs, modernise our infrastructure, our roads, our bridges, our broadband, a range of things turning the climate crisis into an opportunity, and a put us on a path to win the economic competition of the 21st century that we face with China and other large countries in the rest of the world".
The House approved the $1tn bill late on Friday, after Democrats resolved a months-long standoff between progressives and centrists. The measure passed 228-206. Thirteen Republicans, mostly moderates, supported the bill while six progressive Democrats opposed it, among them Alexandria Ocasio-Cortez of New York.
Approval sent the bill to the desk of a president whose approval ratings have dropped and whose party struggled in elections this week.
Biden said he would not sign the bill over the weekend because he wanted those who passed it to be there when he did so.
"We're looking more forward to having shovels in the ground," Biden said. "To begin rebuilding America."
2.44pm GMT
14:44
Biden to travel to Baltimore to sell infrastructure bill
Joe Biden will travel to Baltimore, Maryland, on Wednesday to deliver a pitch for the benefits of the bipartisan infrastructure bill, which passed the House on Friday.
In Baltimore, the president will "discuss how the Bipartisan Infrastructure Deal delivers for the American people by upgrading our nation's ports and strengthening supply chains to prevent disruptions," per the White House's guidance on the trip.
The House was able to pass the bill on Friday night, after speaker Nancy Pelosi decided to delay another planned vote on the larger spending package championed by Democrats.
The infrastructure bill, which passed the Senate in August, provides $555bn in new federal funding for roads, bridges and railways, among many other projects.
Celebrating the House's passage of the bill, Biden said on Saturday, "This is a blue-collar blueprint to rebuild America. And it's long overdue."
2.23pm GMT
14:23
As Jill Biden launches her campaign to encourage American parents to vaccinate their children against coronavirus, the White House is taking additional steps to boost vaccination rates among kids.
The AP reports:
Health and Human Services Secretary Xavier Becerra and Education Secretary Miguel Cardona are sending a letter to school districts across the country calling on them to organize vaccine clinics for their newly eligible students. The officials are reminding school districts that they can tap into billions of dollars in federal coronavirus relief money to support pediatric vaccination efforts.

The Biden administration is providing local school districts with tools to help schools partner with pharmacies to administer shots. And it's asking schools to share information on the benefits of vaccines and details about the vaccination process with parents, in an effort to combat disinformation surrounding the shots.

The White House is encouraging schools to host community conversations and share fact sheets on the vaccines and is working with the American Academy of Pediatrics to partner local physicians with schools aiming to share science-based information about the shots.
Many US schools have been affected by coronavirus-related closures this year, and there are high hopes that the approval of a vaccine for all school-aged children could help keep classrooms open moving forward.
2.23pm GMT
14:23
Eric Berger reports on the Biden administration's efforts to enact vaccine requirements in workplaces:
Biden administration plans to get US companies with more than 100 or more workers to vaccinate their staff or bring in regular tests have been welcomed by public health groups but slammed by Republicans and trade groups, who claim government overreach with negative economic consequences.
Such divided reaction to the rules announced last week mirrors much of America's problematic vaccine rollout, where social and political headwinds have seen vaccination take-up slow down worryingly.
US vaccination rates are some of the lowest in industrialized countries where the vaccine is readily available.
Subject at least to a temporary stay issued by a circuit court in New Orleans on Saturday, the new rule from the Occupational Safety and Health Administration (Osha) will take effect on 4 January.
But the rules sparked new backlash from Republican lawmakers and conservative groups who described the measures as unconstitutional. Republican governors or attorneys general in 15 states plan to file lawsuits against the mandate, according to the Associated Press.
"This rule is garbage," South Carolina's attorney general, Alan Wilson, a Republican, said, according to the AP. "It's unconstitutional and we will fight it."
2.23pm GMT
14:23
Jill Biden to kick off campaign to boost child vaccination rates
Greetings from Washington, live blog readers.
First lady Jill Biden will kick off a campaign this afternoon to convince more American parents to vaccinate their children against coronavirus.
Biden and Dr Vivek Murthy, the surgeon general, will visit a vaccination clinic at Franklin Sherman elementary school in McLean, Virginia, which was the first school to administer the polio vaccine in 1954.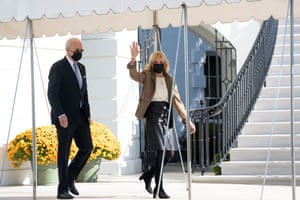 The event comes less than a week after the Centers for Disease Control and Prevention approved the administration of a lower dose of the Pfizer vaccine to children between the ages of five and 11.
The Biden administration is now coordinating with schools, pharmacies and local health departments to ensure families have access to vaccines and (perhaps more crucially) give parents information about why kids should get their shots.
The first lady, who is an educator herself, will have the opportunity to deliver that message in person today.
Stay tuned.